I love this time of year. The leaves are in neat piles on my lawn, football season is in full swing, and BorgataPoker.com, it seems to me, is at its most active.  I'm writing this blog post at the beginning of my favorite holiday week of the year - Thanksgiving.  The workload is light from my day job and I can concentrate on the tournaments and cash games on BorgataPoker.com.
I'm writing these words in my secluded sanctuary deep in the furnished basement of my house as I listen to the hustle and bustle of my family above me in the kitchen preparing for the great meal we will have on the 24th.  Don't get me wrong, I always offer to lend a hand, but it quickly becomes apparent that the most help I can give is to stay out of their way.   In fact, I'm such poor help in the kitchen that invariably, one member of my family suggests to me that there's probably a great tournament online at BorgataPoker.com at that very moment and that they would hate to have me miss it.  Whether this is genuine incompetence on my part or absolute brilliance in planning, I will never tell.   What I will tell you is that it leads to great poker fun on BorgataPoker.com for me.
This is the week I plan on continuing the fun I had through all of October.  Playing some great tournaments on BorgataPoker.com.  As always I played some amazing poker players like SLhelper13 and pitt72 who played great and blew me out of the water in a tournament back in mid-October.   November has been just as fun, if not more so because of the Borgata Fall Poker Open.   By the way, that's me attending the event in Atlantic City.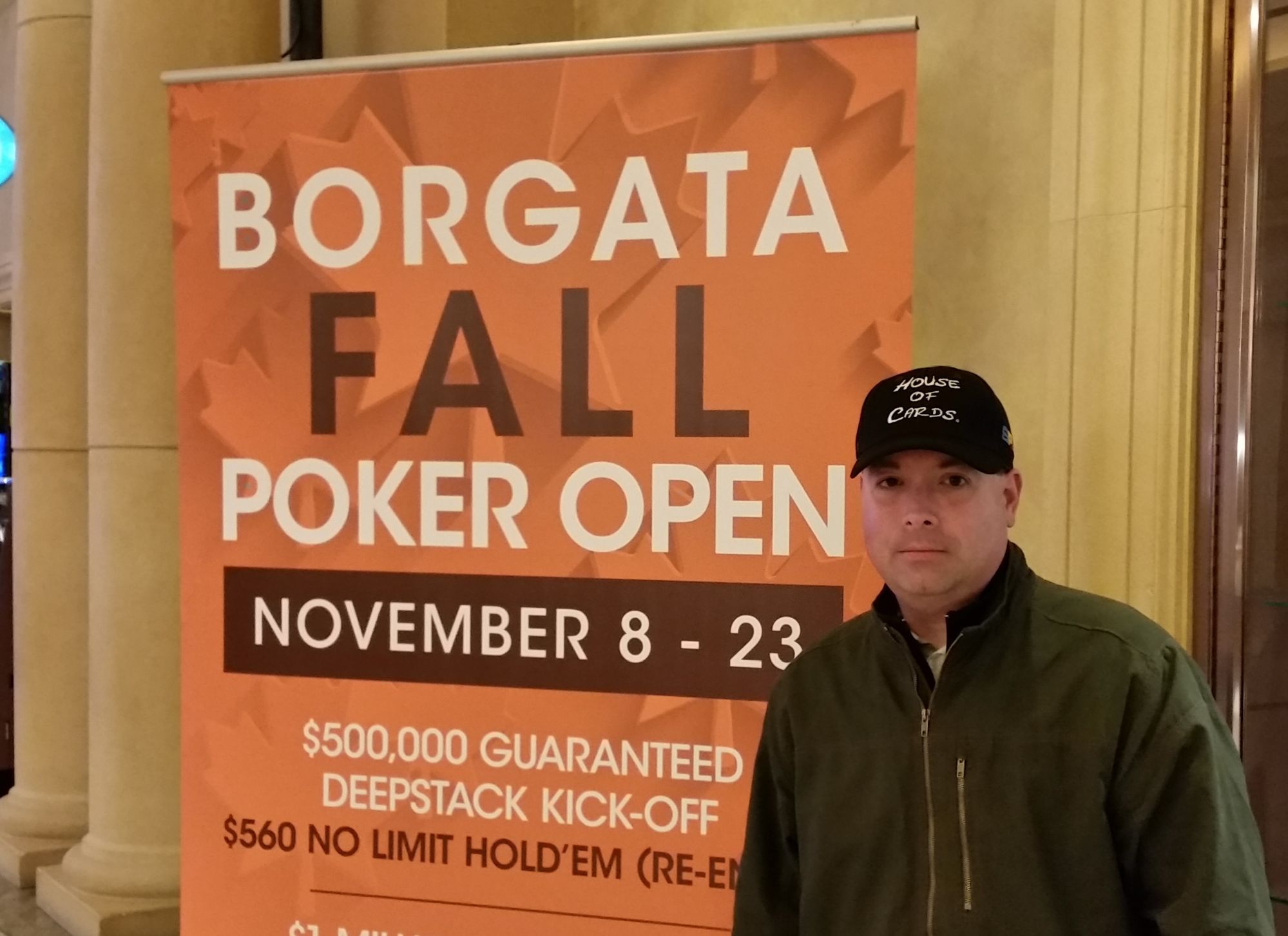 So, as the weather turns colder, the poker action on BorgataPoker.com heats up and I plan on playing a bunch of events over this holiday season.  Sign up at BorgataPoker.com using this link then look for me, DEW44, and jump on the table.  Who knows, you might be able to win a little extra money for the holiday gift giving season.  See you online.
About the Author
Dave Weischadle is co-host of the syndicated radio talk show House of Cards® and anchor of the House of Cards® Gaming Report. Dave, an attorney, is a member of the Gaming Law Division of the New Jersey State Bar and is a member of the Entertainment and Sports Law section of the New York State Bar association